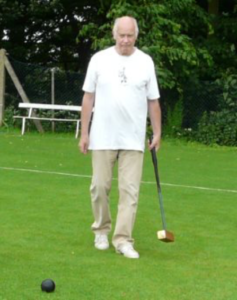 By coming second in a Preliminary Heat competition at Ashby, Bakewell Croquet Club player Steve Marsh qualified for entry and played in the B-Level National Finals.
The finals took place at Budleigh Salterton on 8th/9th October with sixteen players coming from all over the UK each playing fifteen games over the two days. They have nine perfect lawns at Budleigh Salterton – being likened to a billiard table in smoothness! 'The best I have ever played on' quoted Steve!
At the end of the first day Steve was in the lead, though eventually coming third by winning 10 of his 15 games.
The winner was Paul Gunn (handicap 1), the runner-up was Richard Bilton (handicap 2) and third was Steve (handicap 4).
Congratulations to Steve for doing so well in his first National Golf Croquet competition.