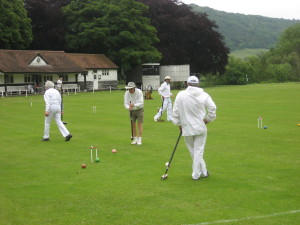 Membership
We welcome new members of all ages. All necessary equipment is available and existing members are happy to guide you through the rudiments of the game. Formal coaching sessions at home and sometimes other locations are available within the season for those who are interested. Throughout the season, in addition to our club sessions and competitions described below we have a range of social events, see our calendar for an idea.
Membership costs £70 for the year, with unlimited play.
See the following flyer for more information and the membership form:
[Bakewell Croquet Club Flyer and Membership Form 2023]
Club Sessions
Our season runs during the summer months, usually from March/April until mid to late October, all depending on the weather. Our sessions are held at the following times:
Mondays: 2pm to 5pm, lawns available after 5pm
Thursdays: 2pm to 5pm, association croquet after 5pm
Saturdays: 10am to 12 noon
Matches or games are arranged on an ad hoc basis between the members who turn up. We always accommodate members so that they can rely on a game when they arrive.
Members who have a key can have access to the equipment and lawns at other times, provided that such use does not interfere with other clubs use of the recreation ground.
Car parking is readily available nearby.
Versions of Croquet
There are two types of Croquet: Golf Croquet and Association Croquet. Both versions can be played as doubles or singles. Leaflets on both are available from the club or the Croquet Association.
We mainly play Golf Croquet as it is more sociable and the duration of the game much shorter. Games on some occasions are timed but usually won by the first to run 7 hoops. Visitors and new members soon pick up how to play the game and have a lot of fun. We do have a small group playing Association Croquet, at our Thursday evening session (after 1800) one lawn is set aside for this.
Competitions
The Federation of East Midlands Croquet Clubs organises regional league matches. For the more experienced players we have Bakewell "A" team and a "B" team for players who want to improve their skills and increase their experience, take a look at our results. We also organise friendly matches with local clubs for those who do not wish to be in the league teams but wish to gain experience and confidence.
Intra-club league games are played between members throughout the season which helps to improve your level of play.
During the season we also have two Bakewell Club tournaments usually one early and one later in the season which adds more interest between club members. These are a very enjoyable, sociable beginning and end to the season.
The league matches are either on our home ground or spread further afield within the East Midland area. The home team provides refreshments which makes for a friendly and social event.
For further information contact info@bakewellcroquet.org.uk