Why Croquet?
7 good reasons to take up croquet:
It's played outside in the fresh air.
Men and women play on equal terms.
No running is involved.
You don't need fast reflexes.
The games don't last too long.
It's easy to learn.
Also, . . . .
Why Croquet at Bakewell?
There's a friendly local club you can join.
All the equipment you need is provided.
Beginners' coaching is provided.
Who plays Croquet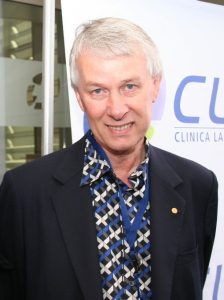 Sir Richard Roberts
Born in Derby
Studied in Sheffield
Won the 1993 Nobel Prize in Physiology. . .
. . and spent part of his Prize money on putting a croquet lawn in his front garden
Photo by paloma.cl – originally posted to Flickr as Interviewing Mr. Roberts, Nobel Prize 1993, CC BY-SA 2.0,
Why does he play?
He said "I have always been fascinated by puzzles and games. One of my favourites is croquet, which combines the skill of snooker with the strategy of chess."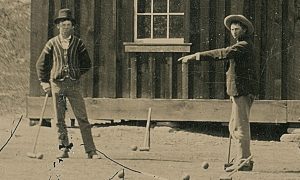 Billy the Kid also played . . . .
Legend has it that he was shot in the back by the dastardly Pat Garrett after arguing about whether the Kid had played an illegal push-stroke at the 13th hoop. . . . (Mmm)
(That's Billy on the left . . .)
What people have said about Croquet
"It combines the aggressiveness of men with the vindictiveness of women."
From an early book.
"Croquet: a very good game for people who are annoyed with one another, giving many opportunities for venting rancour."
Rose Macauley.
"Like golf but more fun"
John Prescott.
Some facts about Croquet
We don't play with flamingos.
 There are several different versions of croquet. (We play Golf Croquet & Association Croquet.)
Wimbledon's greatest ever singles champion was Professor Bernard Neal who won the Croquet Singles title 37 times.
Croquet was in the Olympics in 1900. The gold, silver, and bronze medals were won by France – who were the only team playing.
Sounds interesting?
Then find out more about us.
Or you can drop in to one of our regular sessions at the Bakewell Recreation Ground.