It will soon be the close of our playing season, but we shall continue until the weather and the state of the lawns prevents play.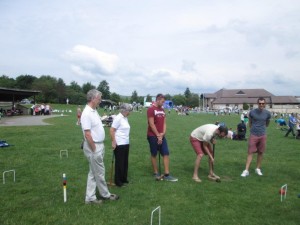 In July several members took part in a 'Sport for Children' day at Carsington Water, the children and parents all enjoyed having a go! Click here to see more pictures.
Our club tournament in August had twenty-five members taking part. The croquet and excellent cakes were enjoyed in equal measure. The winners were Bill Robinson and Christine McMeeken.
In March 2015 we celebrate our ten-year anniversary.   It all came into being from a brain-wave of Alan Reeves, who persuaded a few friends that croquet was what our lives were lacking. The DDDC allowed us a space in the recreation ground, a grant was successfully applied for to buy equipment, all that remained was to learn how to play.
There are now thirty-five members and four playing sessions a week. New friends have been made and new skills learned. THANK YOU ALAN!
Plans are in place for a celebratory meal at Bakewell Golf Club in March 2015.