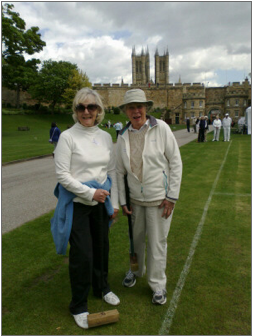 This was once again great fun and was held in beautiful weather. I really can recommend it to anyone in the future.
The duo of Furniss & Nursaw was less than dynamic – being let down by the lamentable play of Bob!! One of their more charitable opponents felt so sorry for them, she knocked three of their balls through the hoop for them. No such sentiments from the rest of the opposition though, resulting in a 4 to 2 drubbing overall.
Carol and Dorothy wasted all their lucky (?) shots in one game winning that 7:0. They should have saved some for the other five which they lost.
This left our former semi-finalists, Steve and Gill to salvage our pride – but they weren't in the salvage business on the day!! Never-the-less, they were still the best of the bunch, winning three games out of six.
Roll on next year!!
by Bob Furniss