Steve Marsh and Alan Reeves both played in the '0+ Cross-over Tournament' at Chester over the weekend (the 4/5 August). There were 16 entrants for the three different golf croquet titles on offer: The Maggie Cowan prize, the Chester Bowl and the Chester Croquet Plate (which Steve won last year).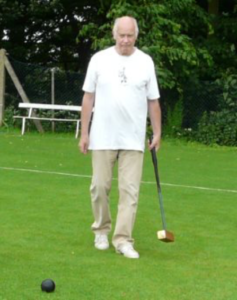 Steve said: "Playing conditions were very difficult (but the food was excellent!). Not only was the weather extremely hot, the four full-sized lawns, laid out side by side, all sloped downwards (the difference between the outer edge of lawn 4 and the outer edge of lawn 1 being one meter!). This, alongside the dryness of the ground and lack of grass, made the balls incredibly difficult to control and judge!"
Regardless of those hazards, Steve came away with the Chester Croquet Plate.