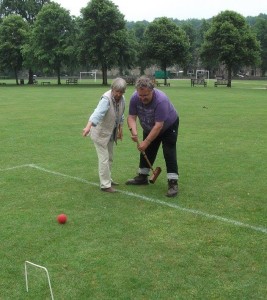 Last Wednesday, 10th July we had the pleasure of a visit from five adults from Golding House Resource Centre at Matlock. They are people with learning difficulties who live in Matlock, Darley Dale or Bakewell who regularly attend the Centre to take part in a wide variety of activities, many of which are provided by local clubs and individuals in the community.
This croquet session was an add-on to the walks provided by Terry Page, a full time Peak Park Ranger. Assisted by Billie, Carol, Avvy and Alan, we were able to enjoy some games of croquet on a beautiful summer's day. The final session proved that "Girl Power" were the winners – one of the attached photos shows the two contestants celebrating with their carer Rachael.
We all had a really good time and they are sure to be back.
Alan