It will soon be time to hang up our mallets as far as outdoor play goes, but we can look forward to indoor croquet and socialising at Fitism (formerly Born 2 MOVE ), still with the same management of Matt and Sarah and still providing delicious, healthy soup and rolls .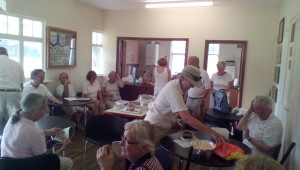 This year members have been using the cricket pavilion for tea and biscuit breaks also entertaining visiting clubs when playing league matches.
We have greatly appreciated the new tables, chairs and kitchen, provided by the football club.
A charity event was held at Ashford cricket club for Bakewell Rotary club, who have asked if we can do the same again next year, I'm sure we can.
Fifteen members visited Brodsworth hall to play on their lawns, there was also a trip to Snitterton Hall, both were thoroughly enjoyed.
A group of about twelve members are off next month to Ripon Spa Hotel for a few days of croquet, sightseeing and socialising .
Membership has grown to forty members.
Last year's 10th anniversary dinner held at Bakewell golf club was such a success that we have booked for next year to mark our 11th.
There is to be a walk in January followed by lunch at a local hostelry.