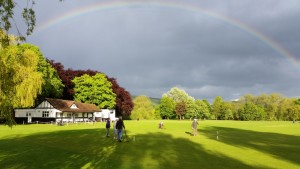 As can be seen on our calendar page the club has  a full program for the summer, in addition to the regular club sessions where we recently saw this rainbow overhead. Here are some of the things we have been doing over the last month or so.
Gobaka Rwanda Trust
In may the club provided a croquet evening for around thirty people raising funds in aid of the Gobaka Rwanda trust, which was held in the garden of one of the trustees.  The food was delicious and the play energetic, inventive and competitive, a fun evening for a good cause.
We received a letter of thanks which can be seen on the right.
Ripon Spa Hotel
Also in May around a dozen members had an outing to the Ripon Spa hotel for a few days of socialising and games of croquet on the hotels's championship quality lawns. The weather could have been warmer but it didn't spoil the enjoyment.
Tansley School
Four afternoon sessions at Tansley school with members of the croquet club introducing the children to a form of croquet. An annual event that we have been requested to do for several years.
Snitterton Hall
In June we had an afternoons playing on the lawns at Snitterton Hall.