It is now Bakewell Croquet Clubs tenth birthday! So a celebration was held at the Bakewell Golf Club, with thirty five  members present.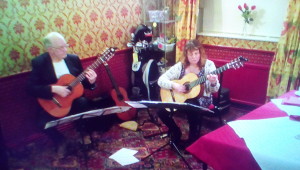 We enjoyed a delicious meal in a warm and friendly atmosphere. After the meal, Steve and Nadia Marsh (two of our members) treated us to a delightful and varied musical concert. This talented duo played classical guitar and recorder pieces some of which were Steve's own composition, followed by an Abba selection. To conclude, they were joined by Alan Reeves on clarinet for a lively jazz session.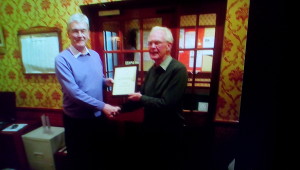 During the evening, Alan was presented with an award from the Croquet Association, for services to croquet. It was his hard work and dedication that brought the club into being.
Throughout the winter, the club were fortunate to be able to practice and socialize at BORN 2 MOVE, an up to the minute fitness centre in Bakewell.
Hopefully winter is behind us and croquet proper will soon start on the recreation ground. Anyone who would like to have a go will be made most welcome.
Click the images to see a larger version